Information
The Blakely New York
136 West 55th Street
New York, New York 10019
Phone: 212-245-1800
Fax : 212-582-8332
General Manager : Frederick Hartman
Room Sales : sales@blakelynewyork.com
Managing Director of Sales & Marketing : Theresa Gonzales
Reservations Department : reservations@blakelynewyork.com
Concierge : concierge@blakelynewyork.com
Description
The Blakely Hotel in Midtown NYC offers tradition and luxury with a committed, professional staff.
It is our attention to detail that sets The Blakely apart from other hotels, giving you a traditional New York City experience.
Whether it is our rooms' cherry furnishings and oak baseboards, our pillow-top mattresses and Egyptian cotton linens, or our marble bathrooms with Frette robes and Penhaligons Amenities, nothing is overlooked.
As a guest of The Blakely, you have the opportunity to indulge in one of the highest-rated hotels in Manhattan New York City has to offer.
We put you in the ideal location for exploring New York City's most spectacular attractions. In fact, you'll be just steps away from NY attractions like Central Park, Times Square, Carnegie Hall, and the New York City Center, as well as many other world-famous museums, shops, and restaurants when you stay at our Midtown hotel.
Amenities
BLACK TAP NYC - Craft Burgers & Beer
With décor that harkens back to old school hip-hop and rock and roll, Black Tap Craft Burgers & Beer is an homage to Chef/Partner Joe Isidori's passion for the great American burger and luncheonette experience. Black Tap's menu features burgers made of beef, bison, lamb, turkey, chorizo, and falafel, along with salad options, spicy Korean wings, and sides like Teriyaki Broccoli, Crispy Brussels Sprouts, and Mexican Avocado. The Greg Norman Burger, with wagyu beef, house buttermilk-dill dressing, blue cheese, and arugula won "People's Choice" at the New York City Wine & Food Festival's Burger Bash competition in 2015.
Shakes
The Californian Burger
Turkey Burger Salad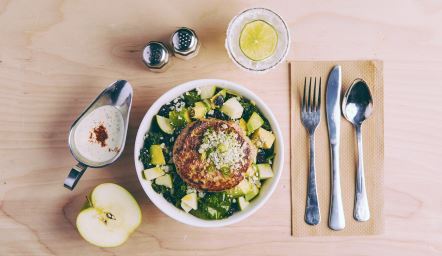 Falafel Burger
Born and raised in New York City, Joe Isidori is a third-generation chef, inspired by both his father and grandmother. At the age of 21, he was awarded a scholarship to The Culinary Institute of America in Hyde Park, NY. Upon graduation, Isidori launched his professional career as Chef de Cuisine with Michael Schwartz at Nemo Restaurant (Miami Beach, FL). In 2003, starting as Corporate Executive Chef of Trump Golf Management, Isidori created and launched dining concepts for The Trump National Golf Clubs, The Mar-a-Lago Club, and served as Donald Trump's personal chef. Promoted to Vice President of Food and Beverage, and named Executive Chef of The Mar-a-Lago Club, he went on to oversee Trump's Hotel Collection dining concepts. It was here that Isidori earned his coveted Michelin Stars. Since, Joe worked as Chef/Partner at the Southfork Kitchen in Bridgehampton, New York, and Arthur on Smith in Brooklyn.
Famous Midtown Crazy Milkshakes
Black Tap's signature "Crazy Shakes" have reached worldwide acclaim with their whimsical, over the top edible decorations, and flavors such as The Cotton Candy Shake, Sour Power, Sweet n Salty, and The Cookie Shake.
Attractions
Empire State Building
The Empire State Building is the most photographed building in the world. The Observation Tower attracts about four million people each year. Until 1973, the Empire State Building was the world's tallest building. From the top of the building, you can see up to five states! This world-famous landmark has been featured in countless movies and its exhibits are remarkable.
Rockefeller Center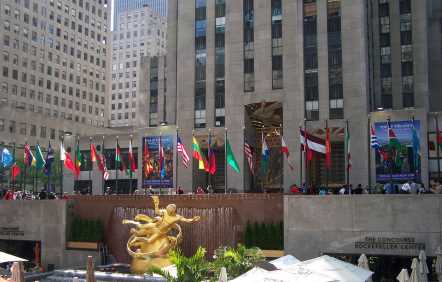 Spread out over 22 acres, there are over 19 commercial buildings on this land, such as 30 Rockefeller Plaza and 1 Rockefeller Plaza. During the holidays, the Rockefeller Center is known for its dramatic decorations, including its world-famous Christmas tree, and expansive ice-skating rink. It is also home of The Tonight Show and The Today Show.
Grand Central Terminal (Station)
This iconic train station is known for its grand façade, and it is one of the 10 most visited tourist attractions in the world. It has been described as "one of the most majestic buildings of the 20th century" because of its meticulously crafted detail and unique architecture. Plenty of shopping and dining options are available at the gourmet culinary market.
Freedom Tower
Freedom Tower, also known as One World Trade Center, opened in 2014. At 1,776 square feet, it is the second tallest building in the world. It is built next to the site of the Twin Towers. Freedom Tower is an office building, and it was built to renew NYC after the destruction of the Twin Towers on September 11, 2001.
Ground Zero
Also known as the 9/11 Memorial, Ground Zero is free of charge and open to the public daily. The names of every person who died in the terrorist attacks in September 11, 2001 are listed at the memorial. It is located on the exact site of where the Twin Towers once stood. There are twin reflecting pools that take up the same space that the Twin Towers once did.
National September 11 Memorial
The National September 11 Memorial sits on the site of the original Twin Towers. It lists the names of all the men and women who lost their lives on 9/11 and in the 1993 World Trade Center terrorist attacks. Visitors are often found quietly reflecting at this memorial honoring the men and women who lost their lives on both of these occasions.
United Nations
Completed in 1952, the Headquarters of the United Nations is a complex in New York City. The United Nations features a notable art collection, international library, and impressive buildings. It has 192 flags that represent all the member countries. Tours are available to visitors.
The Chrysler Building
This art-deco landmark in New York City features astonishing ceiling murals by Edward Trubull. Many visitors go just to see the incredible workmanship in the lobby. Located on the east side of Manhattan in the Turtle Bay area at the intersection of 42nd Street and Lexington Avenue, The Chrysler Building is one of the top 25 most visited buildings in NYC.
Statue of Liberty
The Statue of Liberty is a majestic copper statue that was given to the United States by France. The dedication and opening took place in 1886. The Statue is a symbol of freedom for U.S. and for the entire world. The view from Lady Liberty reveals the skyline of Manhattan.
AOL-Time Warner Center
Home to CNN Studios, this popular tourist attraction has two 750-foot twin towers bridged by a multi-story atrium containing upscale retail shops and restaurants. The Time Warner Center has also been featured in various films and television shows like Enchanted and CSI: NY.
Arts & Culture
Broadway

Located in midtown Manhattan, the theater seats 1,761 people. The Broadway Theatre is one of only five playhouses that front on the street named Broadway. Each Broadway season brings fresh musicals, plays, and revivals to the large audience. Don't miss seeing a Broadway show on Broadway!
Radio City Music Hall
Located in Rockefeller Center in New York City, Radio City Music Hall is a leading tourist destination and the largest indoor theater in the world. The shimmering gold stage curtain is also the largest in the world. The Hall contains more than 25,000 lights and features four-color stage lighting, making it a sight to behold. Technical experts consider the stage to be the most perfectly equipped in the world.
Carnegie Hall
Exceptional acoustics, inspiring architecture, and an interesting history make Carnegie Hall a tourist destination. There are three unique performance spaces, making Carnegie Hall one of the most prestigious venues in the world for both classical music and popular music.
Museum of Art & Design (MAD)
The mission of the Museum of Arts & Design is to collect, display, and interpret objects that document contemporary and historic innovation in craft, art, and design. The museum celebrates the creativity through which materials are crafted into works. Guests will enjoy viewing rare art at MAD.
Museum of Modern Art (MOMA)
Extraordinary exhibitions and the world's finest collection of modern and contemporary art are found at MOMA. The Museum of Modern Art is dedicated to being the top museum of modern art in the world. This impressive museum strives to be accessible for everyone from young children to scholars. It encourages guests to be open and willing to use their imaginations and explore art.
Madame Tussauds
Madam Tussauds is a fun museum chain for life-size wax replicas of famous Americans and historic icons in themed galleries. Guests will see everything from replicas of sports figures to pop culture icons to authentic historical figures. What is the common element? Wax!
The Guggenheim Museum
Curving lines on the exterior set the stage for this museum, which is among the 20th Century's most significant architectural landmarks. The museum's rotunda has been the site of celebrated special exhibitions, while its smaller galleries are house Guggenheim's renowned collection. The museum also offers educational opportunities for visitors to engage in.
Lincoln Center for Performing Arts
If you love arts and culture, this is a must-see. The cylindrical building, which is wider at the top than the bottom, and architecturally unique shape make it recognizable from television and movies. You can attend a first-rate performance as you take in an opera, watch a show, or see Julliard. It features Impressionist, Post-Impressionist, early Modern, and contemporary art.
New York City Ballet (Lincoln Center Plaza)
This dance company performs to a range of classical and modern music. The New York City Ballet was founded by George Balanchine. Currently, the Company has approximately 90 dancers, making it the largest dance organization in America. It often stages 60 ballets or more in its winter and spring seasons at Lincoln Center each year.
Museum of Jewish Heritage
The museum honors those who died by celebrating their lives. The Museum of Jewish Heritage is a living memorial to the people who perished during the Holocaust. Multiple perspectives are shown in the exhibits, so people of all ages and backgrounds can learn about Jewish life in the 20th and 21st Centuries.