Meetings and Events
With cutting-edge venues, high-tech amenities, customized services and Charlie Palmer cuisine, event planners seeking brand new, contemporary New York City meeting space need only look to The Knickerbocker. Business events and social engagements are transformed into the most memorable affairs at this completely redesigned landmark luxury hotel in NYC. State-of-the-art meeting facilities accommodate up to 250 and indulgent indoor/outdoor spaces set the stage for unique events. From private dining options at our signature restaurant to intimate gatherings in one of the exclusive rooftop Sky Pods high above Times Square, The Knickerbocker boasts a versatile collection of flexible function spaces rivaling any other midtown hotel.
The Salon
Echoing the hotel's contemporary design, The Salon offers 2,200 square feet of state-of-the-art New York City meeting space with a dedicated function room that hosts up to 160, and a pre-event Foyer adjacent to the bar at Charlie Palmer at The Knick. Located on the fourth floor with large windows overlooking 42nd Street, The Salon is the hotel's largest event space and has integrated advanced audio-visual capabilities. Complimentary WiFi is available throughout the hotel, and a dedicated meeting planner attends to every aspect of your event, ensuring the space is configured and catered as you wish.
Attractions
Chelsea Art Galleries
In the late 1990s, New York's visual arts community began moving out of high-rent SoHo storefronts to the west side streets of Chelsea. Today, there are some 350 art galleries between tenth and eleventh avenues and 18th and 27th streets, making this neighborhood the epicenter of contemporary art in New York.
Chelsea Market
No trip to Chelsea is complete without a stroll through the historic Chelsea Market, once the location of Nabisco's New York factory. One block long and one block wide, the market is now a mecca for foodies, with more than thirty-five vendors offering everything from hummus to halvah.
Chelsea Piers
Spanning four piers and 28 acres of waterfront real estate, Chelsea Piers is the city's premier sports complex. The historic piers were used by Cunard Line's famous Lusitania and Mauretania in the early 20th century, and were the destination for White Star Line's Titanic.
The Highline in Manhattan NYC
Part historic landmark, part park-in-the-sky, the High Line is a one-and-a-half-mile walkway that weaves through Chelsea. Snaking from Gansevoort Street in the Meatpacking District more than 20 blocks up to 34th Street, this former commercial railroad track is now landscaped with lush greenery.
Museum at FIT
Housed in the famous Fashion Institute of Technology, the Museum at FIT is dedicated to, you guessed it, all things fashion. Spanning 250 years of garments from the 18th century to today, the museum has a special focus on the avant-garde.
Rubin Museum of Art
On the corner of 17th Street and 7th Avenue in the heart of Chelsea—in the former Barneys building—the Rubin Museum of Art celebrates artwork from the Himalayas, including the Tibetan Plateau and surrounding regions in Nepal, Bhutan, India, Pakistan, Afghanistan, China and Mongolia.
Broadway
New York City's Theater District is a treasure trove of performing arts theaters, showcasing the most popular stage performances in the world. Here's what to see on Broadway. Any trip to New York City necessitates a visit to this prominent neighborhood, which has been home to the city's top theaters since the late 1890s, when Hammerstein opened the Victoria Theater on 42nd street.
Bryant Park
Anchored by the stately New York Public Library on Fifth Avenue, Bryant Park is the charming and beloved grassy oasis in the heart of midtown. It may not be as grand as Central Park, but what it lacks in size, it makes up for in tulips and daffodils, French baroque lanterns, a leisurely mid-day attitude and games and activities for all ages.
Carnegie Hall
Andrew Carnegie said of his eponymous concert hall, "It is built to stand for ages and it is probable that during those ages, this hall will intertwine itself with the history of our country." Over 125 years since the hall's opening, Carnegie's words, and Carnegie Hall in New York City remains a beacon of musical arts and culture, and one of the world's premiere stages.
Columbus Circle
Columbus Circle is one of New York's newest retail, dining and cultural hubs. Completed in 1905, it forms southwest corner of the Central Park, where Eighth Avenue, Broadway, and 59th street connect.
Fifth Avenue
Manhattan is one of the greatest shopping cities in the world, known for its upmarket boutiques and designer-driven fashion houses. Nowhere is the retail experience more iconic than along the stores on Fifth Avenue. The street earned its chic reputation in the 1860s, when Caroline Astor—mother of The Knickerbocker Hotel's founder John Jacob Astor IV—began hosting lavish parties at her new mansion on Fifth and 34th.
Rockefeller Center
One of New York City's legendary landmarks, Rockefeller Center is an iconic collection of skyscrapers covering three city blocks in Midtown.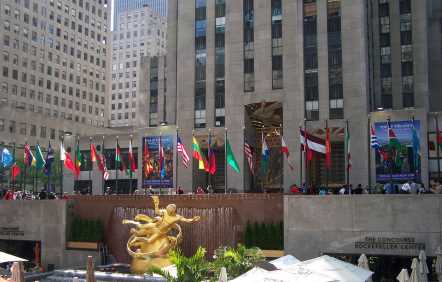 Times Square
Most people head to the center of Manhattan for one thing only: to be surrounded by the glittering, super-sized lights at the Crossroads of the World. To stand in the heart of Times Square is the quintessential New York City experience.
Whitney Museum of American Art
Founded in Greenwich Village in the 1930s, the Whitney Museum of American Art graced many addresses as it grew and expanded its mission. Its striking new home, designed by Renzo Piano, opened its doors in 2015 to much fanfare.
Nearby Dining
Charlie Palmer at the Knick
With dazzling Times Square views overlooking Broadway and 42nd Street from an enviable fourth-floor corner perch in the heart of Manhattan, Charlie Palmer at The Knick brings together two of the most iconic names in hospitality. Inspired by the rich history of The Knickerbocker, a 1906 landmarked New York City treasure recently reopened as Times Square's premier luxury lifestyle hotel, Chef Palmer adds new twists to his acclaimed cuisine to create the Hotel's signature Honest American Cuisine in an open action kitchen.
St. Cloud Rooftop
With its three plush corner Sky Pods overlooking Times Square, stylish indoor and outdoor seating options, the exclusive Waterford Crystal Lounge, an ultra-luxe private room, and lush living walls of greenery, St. Cloud is the ultimate rooftop bar in NYC.
Jake's Coffee Roasters
A cultured coffee shop and café in Times Square, Jake's @ The Knick is a perfect grab-n-go option for busy guests.